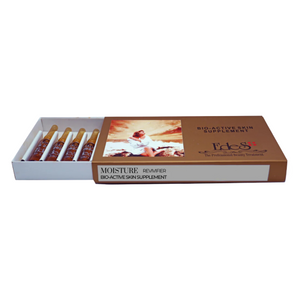 Professional use ampoules of Moisturizing supplements containing panthenol, hyaluronic acid, saccaride isomerate and corn flower water to counter dehydration and improve the skin's ability to retain water. Improves skin tone and suppleness rapidly.
Application: Cleanse skin thoroughly before applying sparingly on the area to be treated. The Moisture Supplement helps hydrate and retain moisture in the skin. May be used under a cream or mask. Dab lightly on the cleansed treatment area and apply an appropriate cream over it.
Remarks: Sold in a box of 10 ampoules of 2ml each.

(Size - 2 ml)