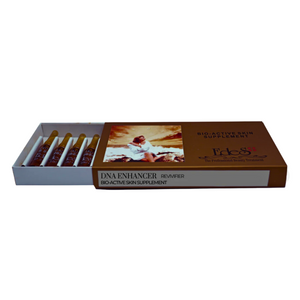 Professional use ampoules containing highly potent supplement, of high concentrations of DNS extracted from salmon soft roe, to stimulate skin rejuvenation. Helps to counter the effects of aging. Improves skin smoothness, hydration, elasticity and tone to help reduce skin coarseness, lines and wrinkles. 
Application method: Cleanse skin thoroughly before applying on area to be treated. May be applied over face, neck and breast. Can be used daily as an Anti-Aging Treatment on Dry and Matured skins. May be applied twice a week on Normal Skin as a Preventive Treatment. An appropriate cream may be applied over the DNA Enhancer. 
Remarks: Sold in a box of 10 ampoules of 2ml each.

(Size - 2 ml)