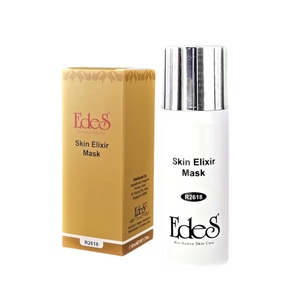 Leave-on therapeutic mask with a superb combination of natural Bakuchiol extract, hyaluronic acid and aloe vera to boost hydration, prevent and reverse signs of skin aging.
Skin hydration
Skin calming and soothing
Promotes cellular rejuvenation
Stimulates collagen synthesis
Strengthens connective tissues
Reduces lines and wrinkles
Controls microbes
Protects against free radicals and premature skin aging
(Size - 50 ml)
When I first got my hands on it, I couldn't wait to try it out, so I applied it all over my face. And let me tell you, it worked wonders! My skin was healed, and I was absolutely thrilled. Now, I don't need to use it all over my face regularly. Instead, I keep it as my secret weapon for those occasional pesky spots. This product is a spot treatment superhero! It's like magic how it reduces pimple size overnight and helps them heal faster. I can't thank it enough.
The best part? A little bit of this product goes a long way! You only need a small amount, and it does the job brilliantly. It's not only effective but also super cost-effective. I love products that deliver results and last a long time.
If you're dealing with stubborn pimples or occasional breakouts, I highly recommend giving this product a try. It has truly been a game-changer for me, and I'm confident it will do wonders for you too. Trust me, you won't be disappointed!